After years of using commercial skin products that both damaged her skin and overall health, Elizabeth Koshy turned her skills and determination into creating her own line of organic and natural skincare products: Empress Naturals. Her target demographic is women from 40 to 65 – those who have both neglected their skin and who are going through hormonal imbalances. It took her five years to put all of the pieces together into the perfect formula, and today the WMarketplace is thrilled to showcase this woman-owned business and its elixirs and serums to keep us looking great as we get older.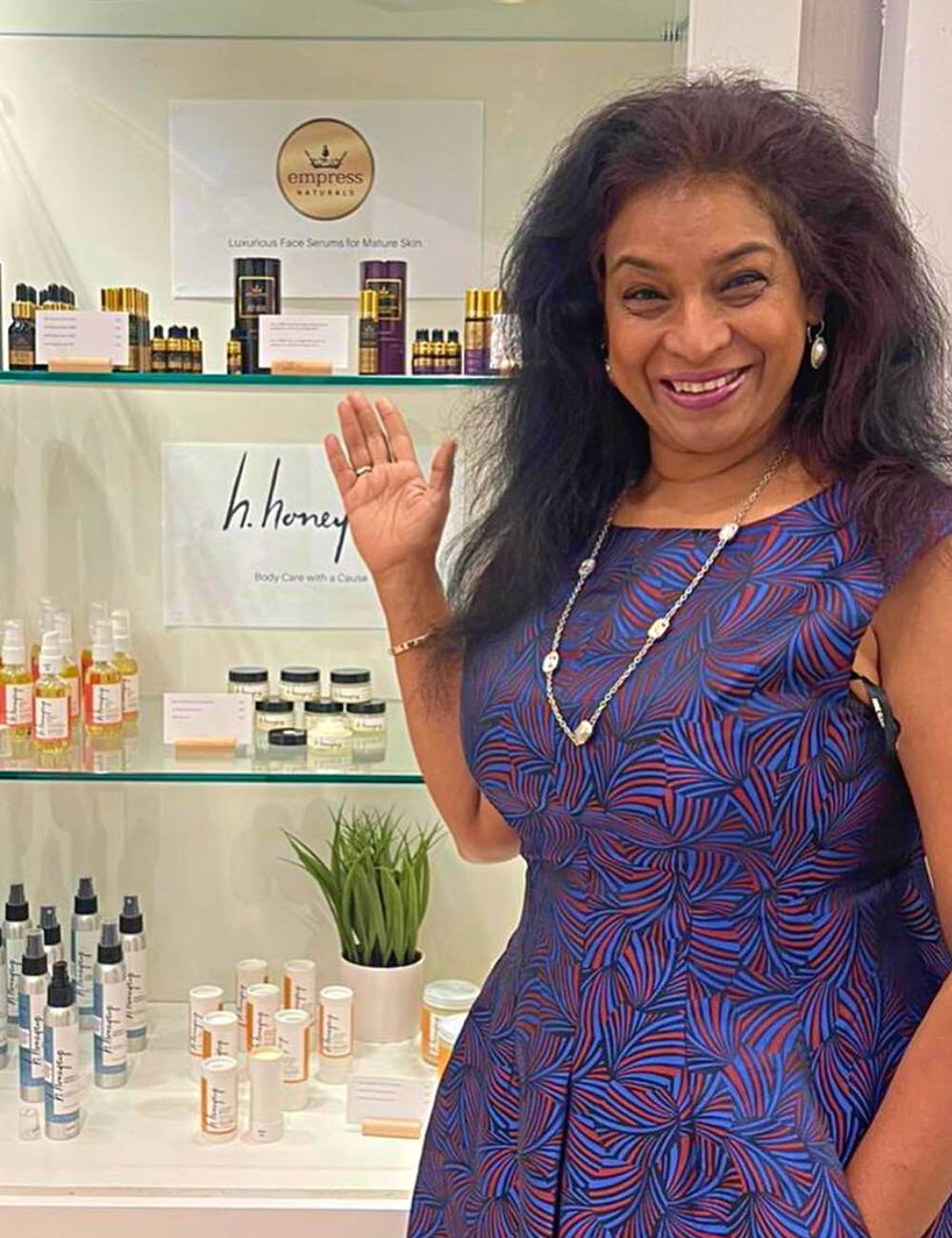 As a woman of color I was unable to find clean skincare that worked effectively for my skin type and needs.
What inspired you to start Empress Naturals?
Empress Naturals was born out of my personal health experiences. While experiencing hormonal disorders from the chemically laden products that were a part of my daily routine, I vowed to change my lifestyle and consumption patterns. As a woman of color I was unable to find clean skincare that worked effectively for my skin type and needs. While creating my own formulations, I found a gap in my immediate circle for cleaner products that did not harm the individual, and I sought to create a brand that advocated the same philosophy. My family and friends were huge motivating factors who pushed me to launch Empress Naturals. I especially want to give a shout-out to my friend Pooja Kohli, who encouraged me to introduce my products into the market and get them out there.

What is something you know now that you wish you knew when you started?
One of the biggest learning lessons of starting my own brand is realizing that getting the product right is only 2% of the entire skincare industry ecosystem. The other 98% is perfecting how you acquire your target audience, build partnerships that help your brand grow, and attain certifications so that you appeal to the right customer base. Building a brand is about how you are going to navigate every regulatory or global issue, the supply chain for instance, without compromising on your brand values.
What challenges have you faced?
The The most challenging part of getting a business up and running – especially in a crowded market like skincare and beauty – has to be spreading more awareness about the brand and reaching the customer directly. It takes a lot of time, effort, money and hard work to acquire even 100 customers, which can be frustrating. But every step in the direction of growth is appreciated and helpful. As a Direct-to-Consumer brand, Empress Naturals is taking small steps through which we can directly communicate with our customers. We are in store at the Conscious Beauty Collective pop-up store in Boston and regularly attend conferences and panels across the country.
What has been the most exciting or rewarding part of owning your own business?

The most rewarding aspect of owning any business is seeing your product or service reach customers and make a positive impact in their life. At Empress Naturals, we use ingredients that are USDA-certified organic and 100 percent clean. Watching customers fall in love with the efficiency, formulations and purity of our luxurious serums has been highly rewarding and also acts as a motivator to bring more products out in the market.


The most rewarding aspect of owning any business is seeing your product or service reach customers and make a positive impact in their life.
Do you have items, photos or mementos on your desk that inspire you each day? What are they?
I have two things I keep at my desk at all times.
First, I have a postcard that says "Every day, I have to make an effort to be happy." It might come across as a small reminder, but more often than not, we need to be reminded to find pockets of happiness in our day to keep us going.
Second, I have a plaque of folding hands that signifies the importance of filling my heart with gratitude for where I am today and all that I am hoping to achieve.
Do you have any advice for other women who are getting started in business?
My biggest piece of advice to anyone who is starting their own business is to make an effort to network. Get to know other entrepreneurs who are in the field regardless of whether they are new or veterans. Don't be afraid to ask for help because there will always be something new to learn. Always anticipate that there will be ups and downs throughout your entrepreneurial journey, but what matters is how you cope when challenges rise. Find something that grounds you. It could be anything from meditating to exercise.
Lastly, don't forget to enjoy the process. Your brand is your passion, so stay focused, patient, and persistent till your dream sees fruition the way you imagined it.
Launched in 2020, TheWMarketplace is a nationwide e-commerce marketplace for women-owned businesses to sell their products and professional and personal services. Offering favorable terms to its sellers, it also is a supportive community of women entrepreneurs that have access to learning opportunities through the trademarked HER-Commerce™ programs. With over 500 women-owned businesses selling 4000+ products and services ranging from home goods to coaching, in over 35 states, TheWMarketplace empowers shoppers with a new way to find the communities they want to support, including Black-woman owned, Latina-owned, AAPI-owned, Veteran woman-owned, and more. The Her Story Q&A is one benefit TheWMarketplace provides to sellers.