Stephanie Morimoto took the lessons from years of job burn-out when she took over the self-care brand Asutra in 2018. That value of self-care is now evident in every corner of her company, from products that are natural, safe and affordable to employees who have opportunities for career progression. Along the way, Astura has grown and picked up some big fans – the most notable being tennis player Venus Williams!
The WMarketplace is thrilled to share with you Stephanie's story of her woman-owned business and Asutra's line of sprays, serums and scrubs that will help you look and feel better.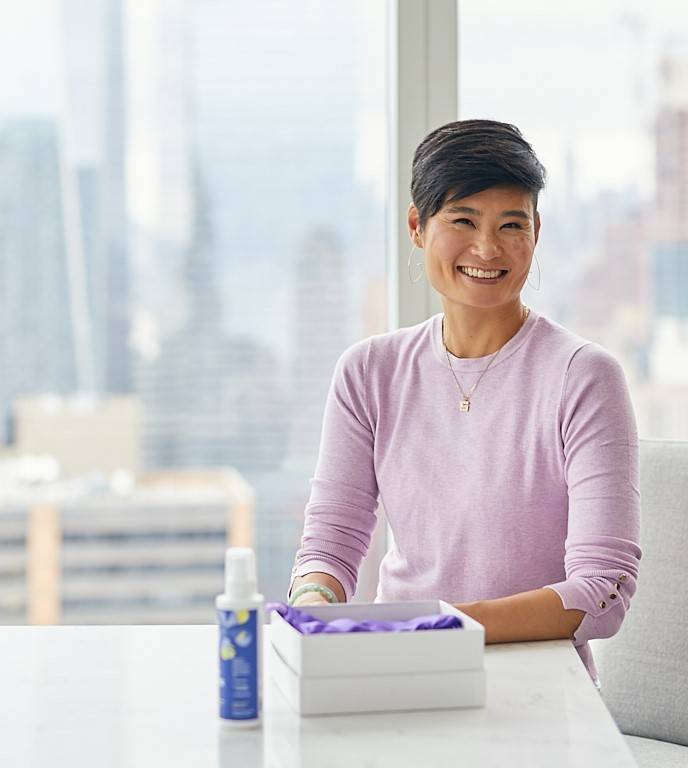 I've made it my mission to share how to take care of yourself on purpose so you can be your best.

Why did you decide to join The WMarketplace
I love the idea of a marketplace curating the best products in each category – AND that all the businesses featured are owned by women. I'm a big believer in women lifting up other women.
What motivated or inspired you to start Asutra?

When I was in my twenties, I was hellbent on pursuing what I thought I wanted. Working day and night, I moved up the ranks from assistant teaching to the C-suite in the nonprofit world.
I got into nonprofit to make a difference, and yet, I ended up completely burned out. It dawned on me that I didn't want all the things I had worked so hard for. I had prioritized productivity over wellness, and now, I was paying the price.
In the years since I left the nonprofit world, I found my passion. I created Asutra, a company that makes vegan, cruelty-free self-care products available to all in affordable, sustainable ways. I've made it my mission to share how to take care of yourself on purpose so you can be your best.

What is something you know now that you wish you knew when you started your business?
I'm a risk taker and very open to change. Often entrepreneurs advise you to fail fast. I have no problem with that! What I should have done differently was to have a more methodical approach to testing one change at a time so we could measure the impact of that one change before moving onto the next one.
What has been the most challenging thing about getting Asutra up and running?
We redesigned and relaunched the Asutra brand in 2019. After a year of early success, COVID hit. Then more COVID – and along with that, supply chain disruptions, shipping delays and changes to the way people were shopping and living. Then historical inflation rates. So the timing has been challenging!
We have pivoted to meet changing circumstances and needs. We heard people's struggles with sleep and introduced innovative sleep aids to help more people rest well. We heard people's desire for pain relief that wasn't just popping another pill and introduced topical sprays and lotions with magnesium to relieve pain AND enhance well-being.
Self-care saved my life. More and more people are seeing how Asutra can help maintain real-life self-care. It brings our team so much joy to see our products changing people's lives!

Lift up other women. It's easy to fall into the trap that we're competing but the reality is there's plenty to go around. I've seen that being generous with others comes back to you in positive ways.
What has been the most exciting or rewarding part of owning Asutra?
Part of our mission at Asutra is to create good jobs and career paths for people who need them in Chicago, my hometown. We get to create opportunities for Team Asutra to be THEIR best. It's been awesome to see folks start on the assembly line and grow into leaders. We have two employees who made minimum wage or didn't have full-time jobs before Asutra. Now, they've bought their own homes. And they're creating an entirely different example of what's possible – and a different life trajectory – for their kids. That is what I'm proudest of.
How long have you been in business and has your business changed since you started it?
I bought Asutra from the founders in 2018 and relaunched the brand in 2019. We changed the look and feel of the brand. When I bought it, 99% of the sales were on Amazon and we had zero retail partners. Now, we are in more than 6,300 retail stores with CVS, Target and natural products specialty retailers like Thrive Market, Grove Collaborative and iHerb - and now The WMarketplace!
Do you have a mentor, formal or informal?
I've always learned the most from the people who work "for" me. I'm a big believer in hiring well and hiring people who are great at the things you're not. You can tell when your team is thriving when the sum is truly better than the parts.
What communities have been important for you as you've grown your business?
We're very lucky to have global tennis champion Venus Williams as a loyal user and part owner of Asutra. Her audience seeing her talk about Asutra was a key part of our early growth.
Do you have any advice for other women who are getting started in business?
It's okay to pivot. And keep pivoting. Make sure you're being honest with yourself about the unique value you're providing, but as long as you are – then be okay with changing HOW you reach your goals.
Also – lift up other women. It's easy to fall into the trap that we're competing but the reality is there's plenty to go around. I've seen that being generous with others comes back to you in positive ways. Karma is real!
If a journalist were to write a headline about you/your business, what would it be?
Taking care of yourself. Taking care of your community. Taking care of your business.
Launched in 2020, TheWMarketplace is a nationwide e-commerce marketplace for women-owned businesses to sell their products and professional and personal services. Offering favorable terms to its sellers, it also is a supportive community of women entrepreneurs that have access to learning opportunities through the trademarked HER-Commerce™ programs. With over 500 women-owned businesses selling 4000+ products and services ranging from home goods to coaching, in over 35 states, TheWMarketplace empowers shoppers with a new way to find the communities they want to support, including Black-woman owned, Latina-owned, AAPI-owned, Veteran woman-owned, and more. The Her Story Q&A is one benefit TheWMarketplace provides to sellers.